Update 11th of June  2020:
Covid 19 ( Coronavirus)  Postal issues.  As you maybe aware Royal Mail are dealing with large quantities of post during Covid 19 restrictions and working on a priority basis with reduced staff, However as Lock downs are eased delays still remain, which are totally out of our control.
Currently June 11:  Delivery to the UK 10 to 21 days possibly
EU Countries: Deliveries to the EU are slower than normal and we apologize for this, as you maybe aware your items are sent to the UK first and then on to the EU.
Currently June 11:  Delivery to the EU 21 to 28+ days possibly
We Post Worldwide
Please note if the item is not in stock in the UK, it will be sent directly from Thailand to non EU Countries,  we have stock arriving weekly. Delivery is around 7 to 14 days depending on location and stock. If you have any concerns please email me first.                            
trouble with Email, make sure all letters are lower case "No Upper Case"  Please make sure that the payment confirmation email contains the correct shipping address!
If this is not the case your order might arrive at the wrong destination or not arrive at all!
Note:
There are customs considerations for Medication when shipping to the following countries:
Therefore we send Direct from the UK to the following Countries:
Denmark, Germany, Estonia, Canada, Sweden, Norway, Finland and Australia,
Philippines, Saudi Arabia, New Zealand, Peru,
Post Includes Tracking , Registered Airmail and Insurance, and should be signed for on delivery.

Note:
We are a small business, and we are human;
me and my partner will do all we can to help;
please if you have any concerns or queries do not be afraid to ask,
we are not medical professionals  but we are here to listen.
Thai Post Track Here:—
Royal Mail UK Post Track Here:—
_______________________________________________
Omvat tracking, geregistreerde luchtpost en verzekering
Main UK postal Service is the Royal mail, all parcels sent by us are sent recorded and tracked.

After entering you tracking number on the Thai Post website, you should see something similar to the below picture. Departure from outward OE means in transit, If the tracking say's Great Britain (GBLALA)  Accept ,, this normally means your item is in the UK awaiting Delivery,,,and now your post can be tracked with the Royal Mail Website,  where you will get a more detailed account of your parcels whereabouts. Other countries will be very similar to the information provided for UK customers.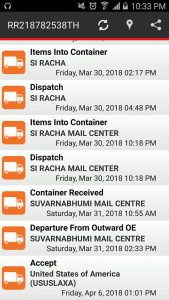 Delivery in a week from Thailand to the US!