We are 2 people trying to make a living,
And yes times do get hard for all of us, we also started with nothing , just because we run a business doesn't make us less human or anything different, we will push on through.. thick or thin giving our customers the best we can possibly do.
Getting knocked down (trying to knock us down) by the limited few who think they are above the rest and can manipulate others with their BS or fake persona,, shame on them.
God, Buddha, Allah, I hope for forgiveness!!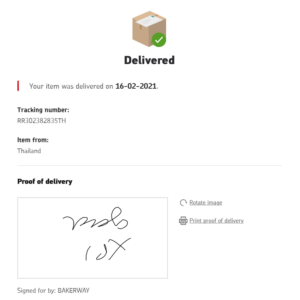 Thyroid S Ordered on back order at the start of pandemic, customer was informed of the delay and chose to wait. We supplied regular updates via Facebook. 100's of customers waited patiently but unfortunately the odd few just couldn't wait for something that was totally out of our control and very unexpected.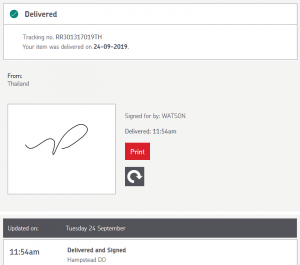 Customer review Trustpilot: CW
As with all our customers regardless of product, we supply a tracking number.
We also take a picture of the post after postage paid at the post office location to show the condition and weight of the item being posted.
Your post was sent on the 11th of September 2019 from Thailand due to the nature of the tablets you bought, and was delivered and signed by you on the 24th of September 2019 3 days after you review, meaning you left a bad review of our small business during transit/shipping of your post.
I have also searched for any email communication from you and found nothing.
All our deliveries specify 7 to 14 days approx depending on location/ holidays / nature of product/Pandemic etc.
You can view your screenshot of the royal mail tracking at
https://www.ampavit.com/screenshots/ ‎