Hypothyroidism, also called underactive thyroid or low thyroid, is a disorder of the endocrine system in which the thyroid gland does not produce enough thyroid hormone. It can cause a number of symptoms, such as poor ability to tolerate cold, a feeling of tiredness, constipation, depression, and weight gain. Occasionally there may be swelling of the front part of the neck due to goitre. Untreated hypothyroidism during pregnancy can lead to delays in growth and intellectual development in the baby or cretinism.
Worldwide, too little iodine in the diet is the most common cause of hypothyroidism. In countries with enough iodine in the diet, the most common cause of hypothyroidism is the autoimmune condition Hashimoto's thyroiditis. Less common causes include: previous treatment with radioactive iodine, injury to the hypothalamus or the anterior pituitary gland, certain medications, a lack of a functioning thyroid at birth, or previous thyroid surgery. The diagnosis of hypothyroidism, when suspected, can be confirmed with blood tests measuring thyroid-stimulating hormone (TSH) and thyroxine levels.
Salt iodization has prevented hypothyroidism in many populations. Hypothyroidism can be treated with levothyroxine. The dose is adjusted according to symptoms and normalization of the thyroxine and TSH levels. Thyroid medication is safe in pregnancy While a certain amount of dietary iodine is important, excessive amounts can worsen certain types of hypothyroidism.
Worldwide about one billion people are estimated to be iodine deficient; however, it is unknown how often this results in hypothyroidism. In the United States, hypothyroidism occurs in 0.3–0.4% of people. Subclinical hypothyroidism, a milder form of hypothyroidism characterized by normal thyroxine levels and an elevated TSH level, is thought to occur in 4.3–8.5% of people in the United States. Hypothyroidism is more common in women than men. People over the age of 60 are more commonly affected. Dogs are also known to develop hypothyroidism and in rare cases cats and horses. The word "hypothyroidism" is from Greek hypo- meaning "reduced", thyreos for "shield", and eidos for "form."
Resource Wikipedia.
Signs and symptoms
People with hypothyroidism often have no or only mild symptoms. Numerous symptoms and signs are associated with hypothyroidism, and can be related to the underlying cause, or a direct effect of having not enough thyroid hormones. Hashimoto's thyroiditis may present with the mass effect of a goiter (enlarged thyroid gland).
 Myxedema coma
Myxedema coma is a rare but life-threatening state of extreme hypothyroidism. It may occur in those who are known to have hypothyroidism when they develop another illness, but it can be the first presentation of hypothyroidism. The illness is characterized by very low body temperature without shivering, confusion, a slow heart rate and reduced breathing effort. There may be physical signs suggestive of hypothyroidism, such as skin changes or enlargement of the tongue.
Pregnancy
Even mild or subclinical hypothyroidism leads to possible infertility and increased risk of miscarriage. Hypothyroidism in early pregnancy, even with limited or no symptoms, may increase the risk of pre-eclampsia, offspring with lower intelligence, and the risk of infant death around the time of birth. Women are affected by hypothyroidism in 0.3–0.5% of pregnancies. Subclinical hypothyroidism during pregnancy has also been associated with gestational diabetes and birth of the baby before 37 weeks of pregnancy.
Children
Newborn children with hypothyroidism may have normal birth weight and height (although the head may be larger than expected and the posterior fontanelle may be open). Some may have drowsiness, decreased muscle tone, a hoarse-sounding cry, feeding difficulties, constipation, an enlarged tongue, umbilical hernia, dry skin, a decreased body temperature and jaundice. A goiter is rare, although it may develop later in children who have a thyroid gland that does not produce functioning thyroid hormone. A goiter may also develop in children growing up in areas with iodine deficiency. Normal growth and development may be delayed, and not treating infants may lead to an intellectual impairment (IQ 6–15 points lower in severe cases). Other problems include the following: large scale and fine motor skills and coordination, reduced muscle tone, squinting, decreased attention span, and delayed speaking. Tooth eruption may be delayed.
In older children and adolescents, the symptoms of hypothyroidism may include fatigue, cold intolerance, sleepiness, muscle weakness, constipation, a delay in growth, overweight for height, pallor, coarse and thick skin, increased body hair, irregular menstrual cycles in girls, and delayed puberty. Signs may include delayed relaxation of the ankle reflex and a slow heart beat. A goiter may be present with a completely enlarged thyroid gland; sometimes only part of the thyroid is enlarged and it can be knobby in character.
Causes
Hypothyroidism is caused by inadequate function of the gland itself (primary hypothyroidism), inadequate stimulation by thyroid-stimulating hormone from the pituitary gland (secondary hypothyroidism), or inadequate release of thyrotropin-releasing hormone from the brain's hypothalamus (tertiary hypothyroidism). Primary hypothyroidism is about a thousandfold more common than central hypothyroidism.
Iodine deficiency is the most common cause of primary hypothyroidism and endemic goiter worldwide. In areas of the world with sufficient dietary iodine, hypothyroidism is most commonly caused by the autoimmune disease Hashimoto's thyroiditis (chronic autoimmune thyroiditis). Hashimoto's may be associated with a goiter. It is characterized by infiltration of the thyroid gland with T lymphocytes and autoantibodies against specific thyroid antigens such as thyroid peroxidase, thyroglobulin and the TSH receptor.
After women give birth, about 5% develop postpartum thyroiditis which can occur up to nine months afterwards. This is characterized by a short period of hyperthyroidism followed by a period of hypothyroidism; 20–40% remain permanently hypothyroid.
Autoimmune thyroiditis is associated with other immune-mediated diseases such as diabetes mellitus type 1, pernicious anemia, myasthenia gravis, celiac disease, rheumatoid arthritis and systemic lupus erythematosus. It may occur as part of autoimmune polyendocrine syndrome (type 1 and type 2).
Diagnosis
See also: Thyroid function tests
Laboratory testing of thyroid stimulating hormone levels in the blood is considered the best initial test for hypothyroidism; a second TSH level is often obtained several weeks later for confirmation. Levels may be abnormal in the context of other illnesses, and TSH testing in hospitalized people is discouraged unless thyroid dysfunction is strongly suspected. An elevated TSH level indicates that the thyroid gland is not producing enough thyroid hormone, and free T4 levels are then often obtained. Measuring T3 is discouraged by the AACE in the assessment for hypothyroidism. There are a number of symptom rating scales for hypothyroidism; they provide a degree of objectivity but have limited use for diagnosis.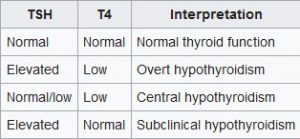 Many cases of hypothyroidism are associated with mild elevations in creatine kinase and liver enzymes in the blood. They typically return to normal when hypothyroidism has been fully treated. Levels of cholesterol, low-density lipoprotein and lipoprotein (a) can be elevated; the impact of subclinical hypothyroidism on lipid parameters is less well-defined.
Very severe hypothyroidism and myxedema coma are characteristically associated with low sodium levels in the blood together with elevations in antidiuretic hormone, as well as acute worsening of kidney function due to a number of causes.
A diagnosis of hypothyroidism without any lumps or masses felt within the thyroid gland does not require thyroid imaging; however, if the thyroid feels abnormal, diagnostic imaging is then recommended. The presence of antibodies against thyroid peroxidase (TPO) makes it more likely that thyroid nodules are caused by autoimmune thyroiditis, but if there is any doubt, a needle biopsy may be required.
Informational Disclosure
The content of B124U/Ampavit,com either through this website, B124U/Ampavit,com 's social media pages, or any other materials distributed by B124U/Ampavit,com is intended to provide helpful and informative material. I am not a doctor or nutrition professional, and do not provide medical advice. Readers are advised to do their own research and make decisions in partnership with their health care provider. If you are pregnant, nursing, have a medical condition or are taking any medication, please consult your physician. Nothing you read here should be relied upon to determine dietary changes, a medical diagnosis or courses of treatment.
FDA Disclaimer: The advice & statements on this blog have not been evaluated by the Food & Drug Administration. Any information on this blog is not intended to diagnose, treat, cure, or prevent any disease.